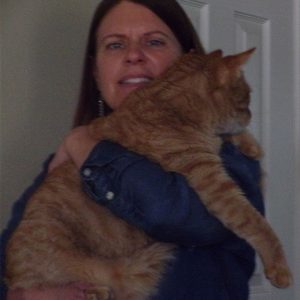 About Karen Hatton
Founder, All God's Creatures Pet Sitting
Karen Hatton, the founder of All God's Creatures Pet Sitting, is a pet professional with over 19 years of experience providing high quality, reliable care to pets and the people who love them. She is a certified veterinary assistant. In addition, she is a member of PSI and PSA. She and her business are also insured and bonded.
Karen Hatton began her career as a Professional Pet Sitter in San Diego. In 2000 she founded All God's Creatures Pet Sitting with the goal of providing compassionate, professional pet care services to clients in San Diego, Ca.. She then moved her business to Austin,Tx in 2019. She is passionate about offering the very best care possible and she treats each pet as if they were a member of her own family.
When not caring for other peoples pets, Karen spends time with her own furry family, including Rusty her orange tabby kitty. She also volunteers at Austin Pets Alive and enjoys horsebackriding, hiking and jogging.
Contact us to set up a free Meet and Greet with Karen
In the Beginning
Growing up from an early age Karen realized she had a passion for animals. Not only did she own and take care of dogs and cats but she also had a pony, goats, ducks and geese, parakeets and lovebirds, pet rabbits, guinea pigs, fish and hamsters. As she got older she graduated from a pony to a horse. She then worked for veterinarians and volunteered at the San Diego Humane Society, Emergency Animal Clinic and Avian and Exotic Animal Hospital. It was at this time that she obtained her veterinary assistant certification.
Compassion
Honesty
Kindness
Love
Respect
Responsibility
Organizations We Support
Austin Pets Alive, Sara Sanctuary, Healing with Horses and Austin Wildlife Rescue
Why Trust All God's Creatures Pet Sitting